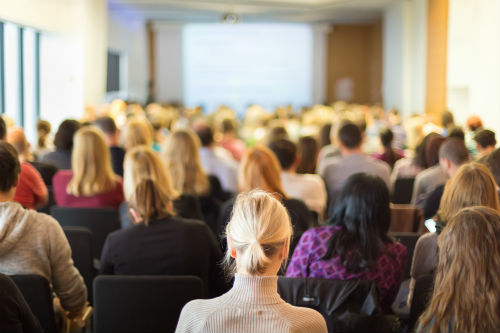 ACRA's 2020 conference will be held virtually every Tuesday and Thursday in August at 6:00 p.m. See agenda below.
ACRA values you, your ideas, and your presence within our organization.  We hope you will join us for the opportunity to grow professionally and socialize with your colleagues in an environment that makes learning fun.  See the agenda for our next meeting below.
ACRA's VIRTUAL CONFERENCE
Tuesdays and Thursdays in August at 6:00 p.m. via Zoom
Memory Master is the Link to your Success
Presenter:  Motivational Speaker Paul Mellor
Paul Mellor's memory seminars are highly interactive, very entertaining, and fast moving, proving that everyone can be more productive and efficient with a better memory. At the end of the session, participants will take with them the ability for remembering names and faces; the confidence for getting through a day without the fear of forgetting; and the knowledge and application for retaining information.
(2 CE Credits)
Judicial Ethics for Legal Professionals
Presenter:  Attorney David J. Sachar
The presentation will cover some of the current issues in judicial ethics including social media and the use of emojis. Another area will highlight the parts of the Code of Judicial Conduct that apply to the actions of judicial staff members. Finally, some good lessons from bad judges will be briefly covered by using actual judicial discipline cases. Questions will be taken during each segment as well as at the end of the presentation. The slide presentation will cite to the Code of Judicial Conduct as well as case law from various judicial ethics cases.
(1 CE Credit - Ethics)
Computing in 2020 and Beyond – Out with the Old; In with the New!
Presenter:  Computer Guru Dan Harpool, Complete Computing
Keeping up with technology can be exciting and challenging at the same time. Join us as Dan Harpool talks about IT trends for this decade, products we are likely to see, and the opportunities and challenges of this changing technology.
(1 CE Credit)
Thursday, August 13, 2020
Reporters and Gadgets and Apps — Oh, My!
Presenter:  Lynette Mueller, FAPR, RDR, CRR
Learn to be self-sufficient, productive, efficient, and courageous in your everyday professional life! Lynette will share the gadgets, apps, and other resources that assist her to meet many challenges that may arise in the deposition or courtroom setting. She will also talk about the workflow she uses after the job — work smarter, not harder! During this session, we will wind up with discussion from the audience and sharing other gadgets that have helped them along their "Yellow Brick Road."
(1 CE Credit)
Active Shooter Session – Safety in the Workplace
Presenter:  Detective James Kemp
Learn crucial skills to keep yourself and others safe. Detective Kemp will equip you with the knowledge you need to act fast in an active shooter situation.
(1 CE Credit)
Thursday, August 20, 2020
Common Pitfalls of Good Grammar
Presenter:  Militant Grammarian Katherine Shurlds
Join Grammar Guru Katherine Shurlds as she talks about her love of language and common pitfalls of good grammar. She has been known for her weekly commentaries as the Militant Grammarian on the Fayetteville Public Radio station. This educational session will be filled with entertainment and laughter!
(1 CE Credit)
Fear - Let It Go!
Presenter:  Max Curry, NCRA President
This interactive one-hour motivational session will focus on learning to rewire your brain in a way that allows for positive decision making made from a fact-based standpoint, not a fear-based one. Decisions made in fear are often the wrong decisions. Also, we're going to talk about how successful people learn to manage their fear, leading to success in business and in life in general.
The separate NCRA Townhall/update it's just that, an informational sharing of what NCRA is doing currently, what our mission is, and positive influences that NCRA has on our industry.
As you know, Arkansas is now a state affiliate of NCRA! This is great news, but what does it mean? Max Curry will explain and answer any questions you may have.
(1 CE Credit)
BUSINESS MEETING
Vote in the new slate of officers.
Thursday, August 27, 2020
What Shoe Are You?
Presenter:  Motivational Speaker Lori Randall
Strengthen business relationships with clients and colleagues by discovering what SHOE you are! Discover ways to recognize, evaluate and adjust to varied personalities, then use those clues to dive deeper into strategies to adjust your thinking, reaction, and communication to better work with each SHOE!
(2 CE Credits)
Frequently Asked Questions
Yes.    Please click on the 'register now' button to send us your information.  You only need to register one time.   After you register your name goes on the list of reporters who will be notified one week prior to each webinar of the upcoming session.    
Once you register, ACRA will receive a list of names who have registered for the August conference.    We will email every person who has registered with the Zoom invite link to join each webinar.  
Yes!  We will send out one invite for each webinar one week prior to the scheduled session.
A week prior to each webinar session you will receive a Zoom invite link to register for the upcoming webinar.    
Please email Support@IntegrityDatabase.com if you experience any technical difficulties during the webinar.    Jeff will be on standby to assist!
Quickly jump back on and you'll get credit.   We will have a tracking report to confirm how long you were on the webinar, so no worries! 
No problem.    If you register, and something comes up and you can't attend, you don't need to do anything.   At the end of each webinar we will receive a tracking report to let us know who attended.   
Create a Zoom free account and test your setup.
Recommend joining through either a mobile application or a desktop application for the presentation, and you can join the call through your phone.
No worries!   We've got you covered.   You will receive the speakers handouts via email.   You can print them ahead of time to have them handy for each session. 
Your 2020 member dues get you free admission to the webinars!  We appreciate your support, and look forward to growing with you for years to come! 
Well you should have been a member, silly!   But, really, the 2020 membership dues are being used to pay our speakers, so our awesome, loyal members do not have to pay again, but it wouldn't be fair if we didn't charge everyone who is benefiting from this informational month of webinars and getting CE credits!   The dues for the conference from the nonmembers will be used towards next year's conference fun, so be sure to join us in 2021 to reap the benefits! 
Yes!   As required by the Office of Professional Programs for CE credit, there will be three questions related to the speaker's session and a short evaluation at the end of each webinar, so don't leave until you complete that!  If you do not complete the survey, you will not get credit for that session.    
Unfortunately not.   To receive CE credit the webinars have to be interactive and live.   Recorded versions would be considered self-study and would not qualify.     Plus, we want to see your smiling faces!  
At registration you were asked if you needed NCRA/NVRA credits.   If you entered your number, you do not need to do anything else.  ACRA will submit your attendance to NCRA/NVRA for CE credits.   
You can carry up to 10 general, no ethics carry forward.
Bushman Court Reporting
Skye's the Limit Reporting
Sarah Flynn, International Realtime Court Reporting Institute 
Alaris 
Questions on how you can be a sponsor? Contact us today!